Professional tools

Types of cutting and grinding…
Pferd offers a wide portfolio of grinding (from rough to fine grinding) and cutting products.
The producer of drills, chisels, drill bits, saw blades …
Since 1952, it produces and sells high quality drilling, sawing ad cutting tools for professional use.


The producer of high quality pliers…
Knipex pliers satisfy the highest performance, ergonomics and durability requirements. They are dedicated for everyday use.

The producer of screw drivers, screw bits, allan keys …
Wiha provides innovation, quality and reliability. Its portfolio of products includes screw drivers, allan keys, bits, pliers, hammers, measuring devices and adjustable hose systems.

The producer of high quality communal tools, torque wrenches, trucks …
Gedore tools provide quality for high performance. Each piece of their steel is thoroughly chosen and strictly controlled.


The producer of riveting tools and machines …
Manual riveting pliers, lever riveting devices, pneumatic and hydraulic riveting guns, accumulator riveting tools and a wide portfolio of rivets.


The producer of various types of keys, heads, attachments, sets…
Tona a.s. Pečky was initially founded as an iron-foundry company. Gradually they start producing all types of torque wrenches.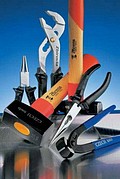 The producer of hammers, hatchets, chisels, pliers, alligator and pipe wrenches…
With a wide scope of its production program including more than 100 types of products, Zbirovia is the largest, and in many types of products the only producer of manual handicraft tools.
The producer of thread-cutting and pipe bending and cutting machines…
Rems considers the quality of their products the most important basis for building confidence of their customers. All their products labelled as a "quality German product" are produced in Germany.


The producer of grinding wire brushes …
Customers all over the world trust the quality and performance of Osborn products. High quality brushes for professional as well as home use are produced at 12 location worldwide.


The producer of rawplugs, anchoring elements, chemical cements…
Design as well as installation itself is based on the awareness of basic conditions affecting the use and selection of suitable rawplugs.

The producer of keys, sets, torque wrenches, Micromont electric tools…
The quality which can be seen and felt. Proxxon is the producer of communal tools - Industrial and electric tools - Micromot.


The producer of electric manual tools…
Makita electric tools are well-known worldwide thanks to their heavy duty performance. Their performance and reliability turned them to top-ranking tools.

The producer of high pressure cleaners, vacuum cleaners, wash machines …
For a number of decades, Kärcher trademark identifies high quality tools. The company mainly deals with the development of high quality tools for private as well as industrial use.

The producer of electric manual tools…
Tools providing more effective working performance. In the Milwaukee company, the expression "Heavy Duty" tools is felt to be more than just a slogan.


The producer of electric manual tools…
"I have been never able to stand up the idea that somebody inspecting my tools could prove them as non-quality products. Therefore, I have always done my best to provide performance able to pass any material test and 'the best of the bests'." - R. Bosch
Contact
Techmat
Železničná 26
903 01 Senec
Slovakia
Phone: +421 2/4564 7617
Fax: +421 2/4564 7618
Mobil: +421 915 744 101,
+421 907 750 409
»
Map
(mapy.atlas.sk)
»
Query Form
»
techmat@techmat.sk
Company ID number: 41126645
Tax ID number: SK 1072587428
Opening hours:
Monday - Friday: 8:00 a.m. - 4:30 p.m.
Saturday: 8:00 a.m. - 12:00 a.m.
Urgent orders upon agreement.